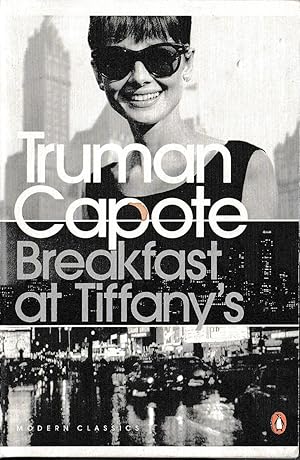 My reading focused on Truman Capote in June. I read his novella Breakfast at Tiffany's, The Complete Stories of Truman Capote, Music Chameleon, his most famous work In Cold Blood, and his letters Too Brief a Treat. Further, as supplements, I read Paris Review: Truman Capote and watched two movies: Capote (2005) and Infamous (2006).
My reading habit is reading an author, not a book, which means I read by author instead by book. If I like an author, I'll read his/her main works; if he/she is my favorite author, I'll read all works of his or hers. I have read Flannery O'Connor, Salinger, Faulkner, Angela Carter, Dostoevsky, Ryūnosuke Akutagawa etc.

I remembered I'd read an article that Truman Capote got the beautiful craft of writing skill. Every word in Breakfast at Tiffany's is just right and perfect. Not a single word could be added or deleted. Wow, I was really impressed. For I am going to learn English writing right now, I decide to read his works. After reading, I have to say, he deserved his reputation. Take In Cold Blood as an example, how can he organize so many materials and put them in a book and as a reader I cannot stop turning the pages.

It's bad that he didn't write any good works after In Cold Blood. Some rumors say after he had seen Dick and Perry hung he was too scared to write. Actually he did have a plan to write a long novel which he announced it would be a masterpiece, just like Marcel Proust's In Search of Lost Time. He named it Answered Prayers that was from a sayings of St. Theresa of Avila – More tears are shed over answered prayers than unanswered ones. He tried to portray the society of rich America, however he found himself abandoned overnight by all his rich friends after publish just some excerpts from his novel. Since then, he collapsed to drink and drug till death; no more good works came out under his pen. So sad. I think he really had a masterful delivery in his works. From those Christmas stories about his childhood, you can see "the sheer clarity of his prose, a brilliant economy of ongoing narrative rhythm"; he had such watchful and skillful hands! He also started a new genre: Non-fiction novel. Today In Cold Blood is still the second-best-selling true crime book in publishing history, behind Vincent Bugliosi's book Helter Skelter (1974), about the Charles Manson murders.

I don't like the introduction by Reynolds Price. He's so mean to Capote. According to Price, Capote seemed to die from drinks and drugs due to that he was abandoned by the celebrity circle. To me, he was destroyed by himself as In Cold Blood brought him literary acclaim so much that he could not bear it.

Capote was from the Southern U.S., but I kind of think he didn't feel like a southern writer. He knew Ann Porter, Eudora Welty, Carson McCullers. Nelle Harper Lee was his best friend and they were neighbors when Capote was young. However, he seemed not to know Flannery O'Connor. In fact, both went to Yaddo and he's only one year older than O'Connor.

The other books I read in June are: Ernest Hemingway on Writing and The Elements of Style by E.B. White, some short stories or essay in the internet.