Once upon a time, there was a woman named Lucia Berlin. She wrote short story for her whole life. She was not known when she was alive, only had a small, devoted following. She rose to sudden literary fame eleven years after her death, in 2015, after her selected stories, A Manual for Cleaning Women was published. It hit The New York Times bestseller list in its second week, and within a few weeks, had outsold all her previous books combined.
Always sarcastic, forever ironic. There is no new things under sun.
I haven't read her books yet, but they are already in my reading list. I'm moved by her miserable later years. Due to her bad health and financial hardship, Berlin moved into a trailer park on the edge of Boulder, and later, a converted garage behind her son's house outside Los Angeles. She had four sons, but before her death, she lived in a trailer or a converted garage. This is unbelievable! I don't want to be like this when I am older. It makes me anxious for being old.
She sent a brief message to Elizabeth Georghegan: Message on my tomestone: breathless.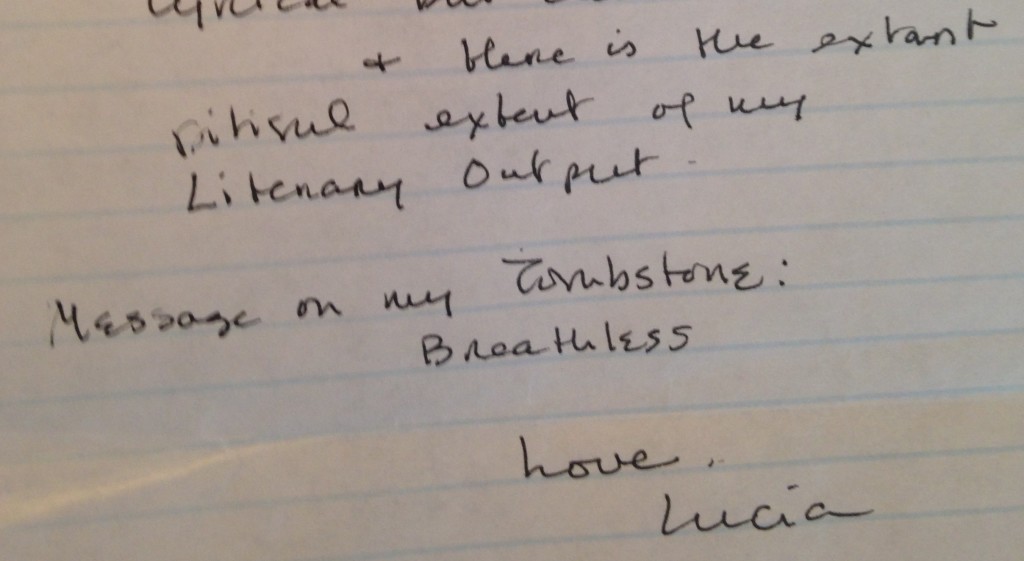 I just read her one-page story "My Jockey", consisting of only five paragraphs, which won the Jack London Short Prize for 1985. Not bad, a bit touching. I have to decide if she is good or not after reading at least two or three books of hers.
According to Wikepedia, Lucia died in her home, on her 68th birthday, with one of her favorite books in her hands.
It makes me think of Chinese poet Haizi who had four books beside him when he committed suicide on the railways. They were: Bible (Old and New Testaments), Walden, The Collected Stories by Joseph Conrad, and The Kon-Tiki Expedition: By Raft Across the South Seas by Thor Heyerdahl.
I'm wondering what book it would be in her hand...