Hayley Paige spent the majority of her life tumbling around in sparkly leotards as a competitive gymnast. In her spare time, she learned how to sketch and sew, and started making herself prom dress shops in london. Today, she designs sparkly wedding gowns for the chic bride who isn't afraid to take risks, and the occasional red carpet look for celebrities such as Chrissy Teigen and Aly Raisman. If you search her name on Pinterest, you'll see a flood of photos from her own fairytale wedding that featured three sparkly, colorful gowns she designed — all of which prove that Hayley Paige is as true to her brand as they come.
Here's how she got her start, how she finds the time to create more than 10 collections a year, and why she still desires to take on more projects.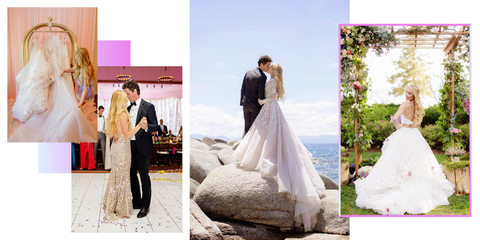 I was a competitive gymnast pretty much my entire life in the Bay Area of California, which is where I grew up. I had practice six hours a day. I found a way to balance school with gymnastics on my own terms and those time-management skills have stuck with me to this day.
My grandma taught me how to sew and crochet when I was 3 or 4, so I was always designing and making different socks to wear with my leotards. The first dress I ever made was this hot pink minidress. My Barbie had a hot pink minidress, and I wanted to match her and play dress-up with my cousin.
I was really into comic books as a child, and I would do a lot of sketch work and drawings. [In high school,] I had my own flying bride as my superhero or my avatar, and I would draw pictures of her face and different poses on canvas bags. My mom's friends who bought them from me still have them to this day, which is awesome.
Eventually I started designing and making my own dresses to wear to school dances. I was reading bridal magazines all the time in high school, and always had this affinity for wedding dresses and the emotional value behind them. Both my prom and graduation dresses I made were white, which of course ended up looking bridal.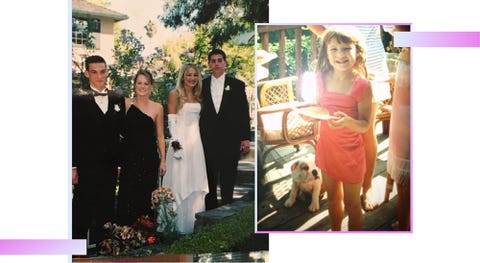 My dad is a doctor and my mom is an interior designer. I grew up idolizing both of them, but I always felt I'd go onto medicine. I didn't think being a designer was really within my reach or that it was a viable profession. I always assumed that saying, "I want to be a bridal gown designer," was a lot like saying, "I want to be an Academy Award-winning actress."
After high school, I went to college at Cornell, where they offered the opportunity to double major, so I thought, Why not? I ended up studying both pre-med and fiber science and apparel design, which is another way of saying fashion design. If I had felt like I had a choice, I would've been gung-ho, design all the way, but to be honest, I really had confidence issues. When you're entering a creative world, there's such a vulnerability to it because you're being judged on something that comes from your perspective. Whereas if you're going to be a doctor or a lawyer, I always thought you study really, really hard and you practice, practice, practice, then you're really good at it. My parents were actually very supportive of me pursuing fashion. All the pressure I felt was definitely self-induced. I guess I learned that from gymnastics. I realized early in life that if I'm trying to succeed at something, it's completely up to me.
MYLAN TORRESIn between my sophomore and junior years of college, I interned at Elle magazine. That was my first real taste of Manhattan and the fashion world, and I loved it. I also worked for a stylist named Julie Weiss. I loved styling, I loved editing, I loved putting outfits together. I do think exposing myself to all different areas of design, even though my heart was always in bridal, was beneficial.
The real defining moment for me choosing to go into fashion was my senior runway show in 2007. I created a 10-piece bridal collection and realized I'd so much rather spend my nights designing pretty dresses than studying carbon equations. I ended up getting offered a job as a designer right after by Jill Stuart, who attended the show. I didn't work for her very long because bridal was where I wanted to be but it was a stepping stone into getting into the fashion world.
After that, I worked as a designer at Priscilla of Boston for the Melissa Sweet brand for about five years. During my time there, I was learning the business and manufacturing aspects of fashion, but I was barely making any money. I also had my own little side projects and styling jobs to supplement the paycheck, but those were bigger contributors to growing my skill set than they were bringing in any type of money. I was lucky enough to know that I would never go hungry or be homeless because I always had my parents as a major support system and financial backup. But I also always carried a bit of a "I'm not going to rely on my parents, I'm going to do this" kind of thing.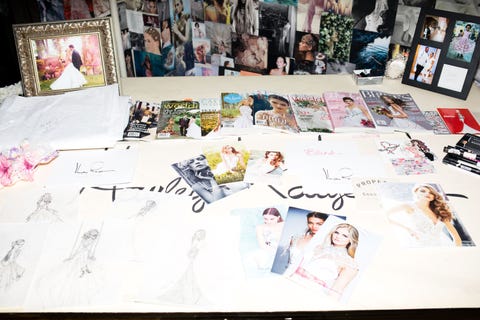 In 2010, a friend from college approached me and asked if I wanted to start a bridal accessory rental company on the side with her. We named it Something Borrowed. We weren't making any of the accessories but I learned so much. It was honestly better for me than going to business school as far as learning the manufacturing and distribution sides of things. One thing I really learned from it was how to pitch. When you have an idea and you're trying to get somebody to believe in it, you can't just have the enthusiasm. You also need to present something that has a return that somebody can see a benefit in.
I eventually had to give up my half when Hayley Paige launched, but it was a good experience for me. I really devoted a lot of my weekends to this project with her. I like to keep the plate very full. If you really look at how much time you have in your day, there's a lot of hours that you can put into something when you get home at night. You just have to plan it out and say, "This is what I'm gonna do."
Because of my experience of starting Something Borrowed with my friend, I decided I didn't want to start my own [fashion] business altogether. I very much saw my strengths in design and my ability to connect to people on social media, and I wanted somebody else to bring the specialty with distribution, manufacturing, and capital. I actually started contacting the CEO of JLM [Joseph L. Murphy], a house of bridal brands, probably in 2009 while I was at Priscilla of Boston saying, "One day, I'm going to work for you." I emailed them probably every other week just to check in. That's advice I tell everyone: Be borderline annoying because you want that job so bad. When they finally wanted to bring me in for an interview, I came in guns blazing. The CEO decided to take a risk on me, a 25-year-old, and brought me on board to launch my own collection under my name in July 2011.
JLM provided the funding for a small team, two pattern makers (one is still with me today), and two sewers. We really put pen to paper and fabric to the mannequins, and pulled out a Hayley Paige collection that season. It was a tight edit of only 11 pieces, but it was the first big step as me as a designer on my own. I also presented a collection that first season under the Blush label, which has become a sister brand to Hayley Paige at a lower price point. I was only planning to launch the Blush line that first season, which was the original label he gave me to start with, but there was such a void in the marketplace after Priscilla of Boston filed for bankruptcy.
Read more:prom dresses london