请点击上方蓝字来关注我们

(今日记者会)
省府将允许特定企业和工作场所重新开放,前提是后两者必须严格遵守公共卫生措施,并能安全营业。上述企业和工作场所包含了季节性企业和部分必需施工项目。
省长福特的话

在严格遵循安全准则的情况下,我们将允许特定企业重新开放。
这是因为我们相信,他们有能力安全营业和适应当前环境。
虽然要重启全省,还需要进一步减少病毒传播,但是我们已有正确的重启框架和工作场所安全准则,确保我们可以逐步和安全的重启。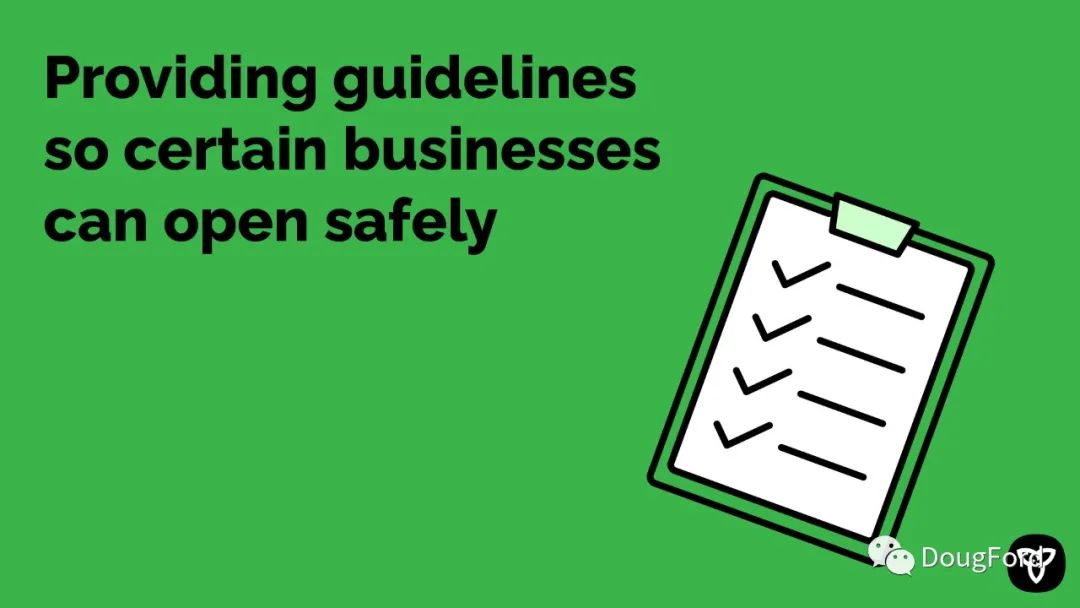 自5月4日下星期一00点01分开始,在遵循适当的健康卫生准则情况之下,下列企业可重新营业:
1
园艺中心和苗圃,但只可送货或路边提货
2
草坪护理和园林护理服务公司
3
必需施工项目如:
涉及物流和货运
涉及宽带,电信和数字基础设施
市政工程
涉及专上院校
涉及托儿中心
涉及学校
涉及为机构、商业、工业和住宅开发提供场地准备、挖掘和服务
4
自动或自助洗车服务
5
汽车行,但只接受预约
6
码头和高尔夫球场可开始筹备复工
尽管特定企业可以重新开放,但是民众仍然需留在家中,并同他人保持安全距离。若不得不出门,只能是因为买菜、拿药和求诊。正是通过上述步骤,本省疫情才得以缓解。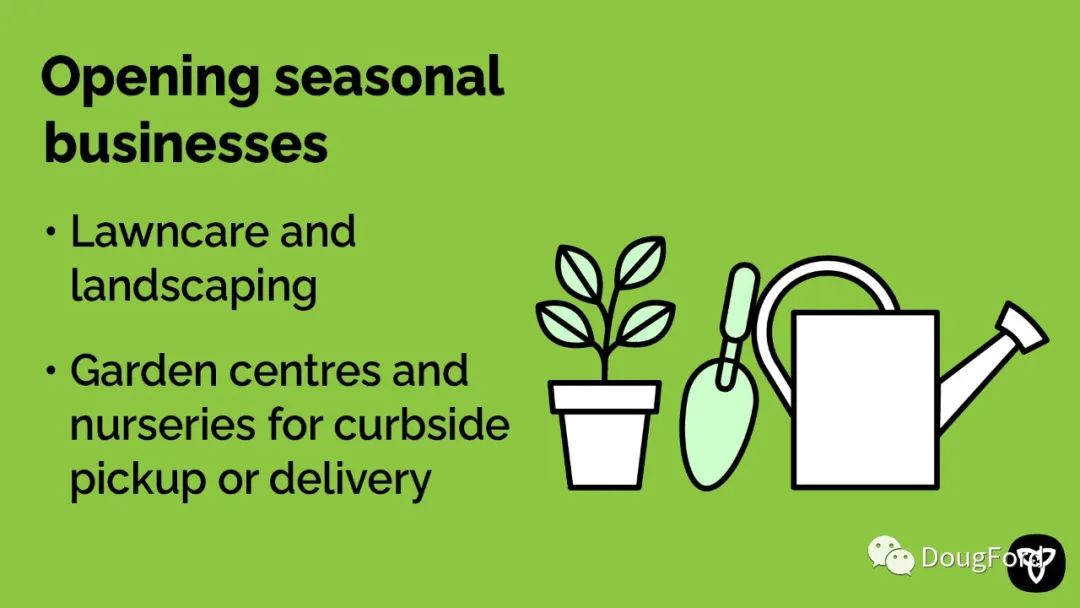 卫生厅长叶丽雅(Christine Elliott)表示:"虽然我们正在准备迈入抗疫斗争的下一阶段,但民众仍然应该尽可能留在家中,来确保我们尽快阻断病毒的传播。通过齐心协力,我们已经取得重大突破,但一切尚未成功,大家仍需努力。我们要和他人保持安全距离和良好卫生习惯,来与疫情继续做斗争。"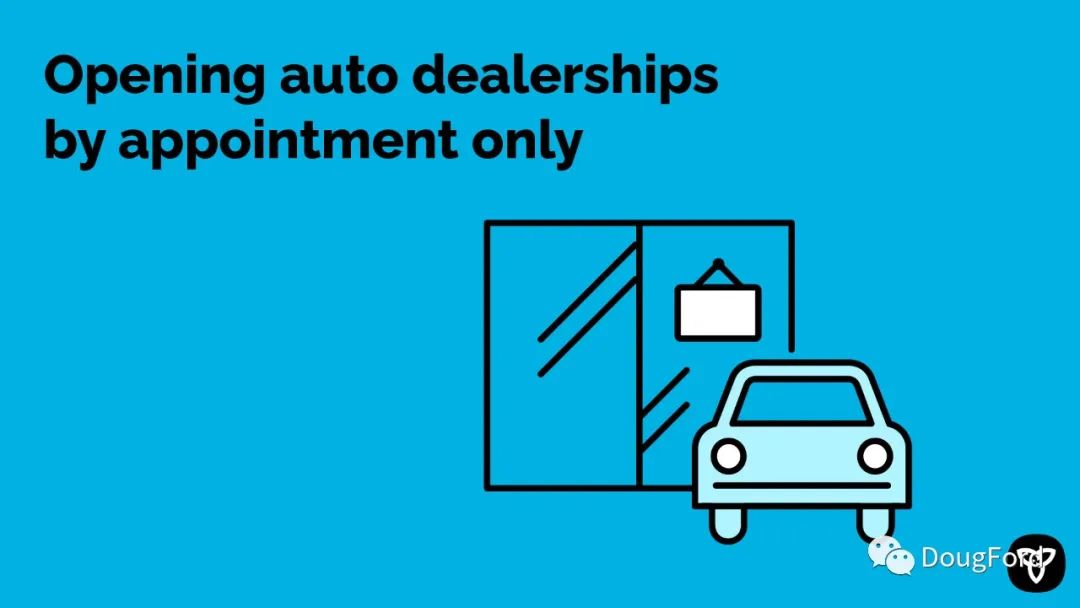 尽管省府要开展抗疫下一步工作,但省府依然会紧密监控病毒的传播和遏制情况,如此一来本省将不会面临疫情突然爆发,亦不会导致大家的心血付诸东流,或置公众安全于险境。
财政厅长菲利普斯(Rod Phillips)表示:"民众的努力已经见效,我们也可以看见一线曙光。一直以来,我们政府的对策是以本省疫情现状为基础,也取决于什么方案是对本省最合适。说白了吧, 我们还没有进入重启阶段,至少目前没有。但是,根据我们所参考的最佳公共卫生建议,我们离重启本省又进了一步。"
(此外,为与广大人民群众进行更良好的沟通,我们特地在文章最下方嵌入了微信小程序,只要选择"点击此处即可留言",就可以留言回复。期待您的宝贵意见和建议!)
完
1
我们想持续和您沟通,以下是我们的二维码,请扫一扫来关注我们: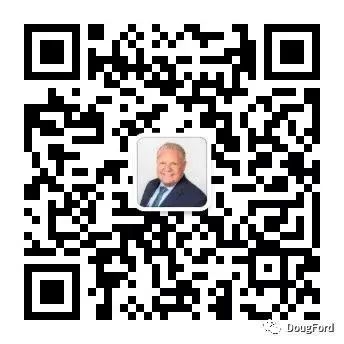 联络我们
脸书: FordNationDougFord
电子邮箱: premier@ontario.ca
推特: @fordnation
Instagram: fordnationdougford
网址: https://www.ontario.ca/page/premier


英语原文
The Ontario government is allowing certain businesses and workplaces to reopen as long as they comply with strict public health measures and operate safely during the COVID-19 outbreak. Those permitted to start up include seasonal businesses and some essential construction projects.
"We are allowing certain businesses to reopen under strict guidelines because we are confident, they can operate safely and adapt to the current environment," said Premier Ford. "While further reductions in the spread are needed before we can begin reopening the province, we have the right framework and the right workplace guidelines in place to do so gradually and safely."
By following the proper health and safety guidelines these businesses will be permitted to begin operations on Monday, May 4 at 12:01 a.m.:
Garden centres and nurseries with curbside pick-up and delivery only;

Lawn care and landscaping;

Additional essential construction projects that include:

shipping and logistics;

broadband, telecommunications, and digital infrastructure;

municipal projects;

colleges and universities;

child care centres;

schools;

site preparation, excavation, and servicing for institutional, commercial, industrial and residential development;

Automatic and self-serve car washes;

Auto dealerships, open by appointment only;

Marinas and golf courses will be permitted to begin preparing their operations for the season.
Although certain businesses are being permitted to reopen, it is critical that people continue to stay home, practise physical distancing and only go out for essential reasons, to pick up groceries, prescriptions or to keep a medical appointment. It is through these simple actions that Ontario is making progress to stop the spread of COVID-19.
"As we begin planning for the next phase of our fight against COVID-19, Ontarians should continue to stay home as much as possible to ensure we stop as quickly as possible the spread of this virus," said Minister Elliott. "While we have made tremendous progress in our shared battle against this new virus, we are not done yet. We need to keep up the fight by continuing to practise physical distancing and good hygiene habits."
As we move forward with next steps, we will ensure that we are continuing to closely monitor virus spread and containment so that we do not spark a sudden outbreak, undo the progress we have made and put the safety of the public at risk.
"People's efforts are paying off and we can see a light at the end of the tunnel," said Minister Phillips. "Our response has always been based on the current status of the outbreak in our province, and on what makes sense for Ontario. To be clear ― we haven't moved into the reopening phase of our response to COVID-19. Not yet. But based on the best public health advice available to us, we are a step closer."