Vancouver to Chattanooga, Tennessee - $379 CAD roundtrip including taxes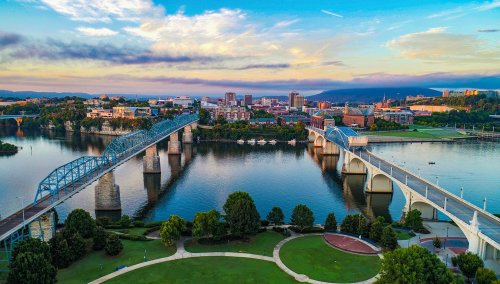 For whatever reason, United Airlines has dropped the price of their flights from Vancouver to Chattanooga, Tennessee down to $379 CAD roundtrip including taxes.
The flights have 1 stop each way, in Chicago.
Chattanooga is one of those small U.S. cities that is virtually always expensive to fly to from Canada. Prices never really dip much below $700 CAD roundtrip.
This is the first time there has ever been an interesting price drop from Vancouver to Chattanooga (CHA).


I'll admit I didn't know too much about Chattanooga before today. Lonely Planet makes it sound pretty interesting for tourists...
"Chattanooga has charisma to spare. With world-class rock climbing, hiking, cycling and water-sports opportunities, it's one of the South's best cities for outdoorsy types.
It's gorgeous, too: just check out those views from the Bluff View Art District! It's also remarkably eco-forward, with free electric buses, miles of well-used waterfront trails, and pedestrian bridges crossing the Tennessee River.
The eminently walkable downtown is a maze of historic stone and brick buildings featuring tasty gourmet kitchens, craft breweries and distilleries. Burgeoning neighborhoods keep the vibe compelling "


Availability for travel
late September, October, December 2022
January, February, March, April 2023


How to find and book this deal
1. Go to Kayak or Skyscanner or FlightHub
Try one of the following date combinations:
Sep 27 to Oct 1, 3, 4, 5, 8, 12, 13, 14, 18, 19
Oct 4 to Oct 8, 12, 13, 14, 18, 19, 22, 24, 25
Oct 18 to Oct 22, 24, 25, 26, 27, 29, Nov 1, 2
Oct 22 to Oct 26, 27, 29, Nov 1, 2, 5, 8, 9, 12
Oct 25 to Oct 29, Nov 1, 2, 5, 8, 9, 12, 16, 21
Oct 26 to Nov 1, 2, 5, 8, 9, 12, 16, 21
Oct 29 to Nov 5, 8, 9, 12, 16, 21
Dec 1 to Dec 5, 6, 7, 13, 14
Dec 6, 7 to Dec 13, 14
Dec 8 to Dec 13, 14
Jan 17 to Jan 24, 25, 28, 29, 31, Feb 1, 4, 5
Jan 18, 19 to Jan 24, 25, 28, 29, 31, Feb 1
Jan 24, 25 to Jan 29, 31, Feb 1, 4, 5, 7, 8
Jan 26, 27 to Jan 31, Feb 1, 4, 5, 7, 8, 14, 15
Jan 31 to Feb 4, 5, 7, 8, 14, 15, 21, 28
Feb 1, 2 to Feb 7, 8, 14, 15, 21, 28
Feb 7, 8 to Feb 14, 15, 21, 28
Feb 9, 10 to Feb 14, 15, 21, 28
Feb 14 to Feb 21, 28
Feb 23 to Feb 28
Feb 28 to Mar 2, 3, 4, 6, 7, 8, 13, 14, 15, 21
Mar 1, 2 to Mar 6, 7, 8, 13, 14, 15, 21, 22, 28
Mar 3 to Mar 7, 8, 13, 14, 15, 21, 22, 28
Mar 6, 7 to Mar 13, 14, 15, 21, 22, 28
Mar 8, 9 to Mar 13, 14, 15, 21, 22, 28
Mar 14, 15 to Mar 21, 22, 28, Apr 1, 4, 5, 8
Mar 21, 22 to Mar 28, Apr 1, 4, 5, 8, 11
Mar 28, 29 to Apr 1, 4, 5, 8, 11, 15, 18, 25
Apr 4, 5 to Apr 8, 11, 15, 18, 25
Apr 11, 12 to Apr 15, 18, 25
Apr 18, 19 to Apr 25


screenshot from Kayak





-sailor(Ocean & Mountain) 2022-8-12